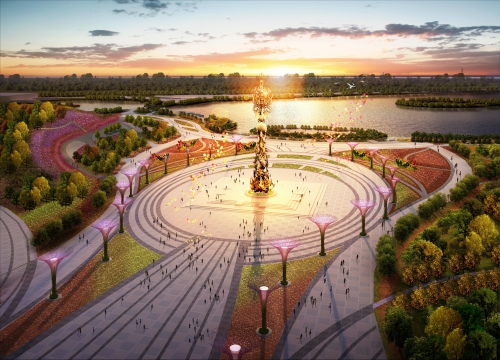 Coinciding with the 2016 Tangshan International Horticultural Exposition, the first AIPH International Horticultural Exhibition Forum will be held in China next month.
AIPH, China Flower Association (CFA) and the Organising Committee of the 2016 Tangshan International Horticultural Exposition invite delegates to attend.
The forum, that takes place on 29 – 30 April at Tangshan Wanda Intercontinental Hotel, Tangshan, Hebei, P. R. China, has been developed for any city or organisation that is organising such an exhibition or is considering organising such an exhibition in the future.
It will cover the benefits to cities and horticulture of hosting an International Horticultural Exhibition, inspiration for what can be achieved in cities as well as guidance from expo experts and ideas for creating an expo.
In addition delegates will be entitled to VIP access to the 2016 Tangshan International Horticultural Exposition and attendance at its opening ceremony.Commenting on the event AIPH Secretary General, Tim Briercliffe, said "This is a wonderful opportunity, for anyone interested in horticultural exhibitions, to learn from those with experience as well and to share ideas for the exhibitions of the future. And, on top of that delegates can join the opening ceremony and get a VIP visit to what will be a truly great exhibition this year. And all this as guests of the City of Tangshan. I hope horticultural and city representatives from all over the world take full advantage of this event."
Speaking at the AIPH International Horticultural Exhibition Forum is:
Tim Briercliffe, Secretary General of AIPH, who will use examples of previous International Horticultural Exhibitions to demonstrate the benefits of organising such events to cities, citizens, countries and the horticulture industry as well as the benefits of an environmental legacy.
Li Fengli, Former Secretary General of the 2014 Qingdao International Horticultural Exposition, China, will explain what made the Qingdao Expo successful and share the best aspects to inspire future exhibitions and explain the legacy that has been left.
Kevin Chung, Chair of the AIPH Marketing & Exhibitions Committee, will share his own experience of involvement in the organisation of the successful International Horticultural Exhibition in Taipei in 2010.
AIPH Expo Consultant, Sven Stimac, has a wealth of experience in advising Expo organisers. He will define how to define and measure success and key aspects to consider when planning and constructing the expo and securing international participation.
There will also be several expo introductions: 2016 Tangshan International Horticultural Exhibition, China, Expo Antalya 2016, Turkey, International Horticultural Exhibition 2019 Beijing, China and Floriade Amsterdam/Almere 2022, Netherlands.
All costs for attendance and hotel accommodation will be covered by Tangshan Municipal People's Government. International delegates are advised to fly to Beijing International Airport with flight costs to be covered by delegates.
For more information and to register visit www.aiph.org/aiph-international-horticultural-exhibition-forum
For more information on the expo visit www.tangshanexpo2016.com
---